Core Values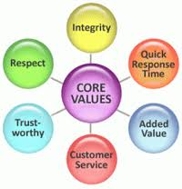 As an organization, we are bound together by a deeply felt sense of purpose, a broadly shared dream, a true vision of tomorrow's opportunity and the following of long standing core values;

Trust, Integrity, Innovation & Involvement.
And also

• Employees, customers and public safety.
• Ensuring that our business ethics are the best.
• Demonstrating our social and environmental responsibilities.
• Customer care and service beyond expectation.



KEY RESULT AREAS:
1. Prospecting
2. Building Rapport
3. Identifying needs
4. Presenting
5. Answering queries
6. Closing the sale
7. Getting resale and referral



FIELD OF EXPERTISE:
1. Substations from 3.3kV to 500kV
2. LV, MV & HV Power Distribution
3. Transmission line up to 500kV